Apple announces Apple Watch Series 7
13th September, 2021 at 11:22 am by Sam
This story is
100%
reliable.
7 min read
Comments
The new Apple Watch has a noticeably larger screen size.
It also has new, slimmer 1.7 mm bezels.
All new full keyboard support.
---
Apple just announced the Apple Watch Series 7 during its "California Streaming" event, featuring a new larger design, a new Retina display, thinner borders, better durability, faster charging, and more.

The Series 7 will come in 41 mm and 45 mm size configurations, which is up from 40 to 44 mm on previous models, And the series 7 will also feature a new casing that has a flat base and softer, more rounded corners. The screen will use 50% stronger crack-resistant crystal, which is Apple's strongest ever. Apple says the narrower borders will allow the display to maximize screen area, while minimally changing the dimensions of the watch itself. The touch sensor has now been integrated into the OLED panel with reduces display thickness and borders dramatically. Apple also says that the "subtle wraparound effect" is created by refracted light at the edge of the display for a more seamless integration with the case.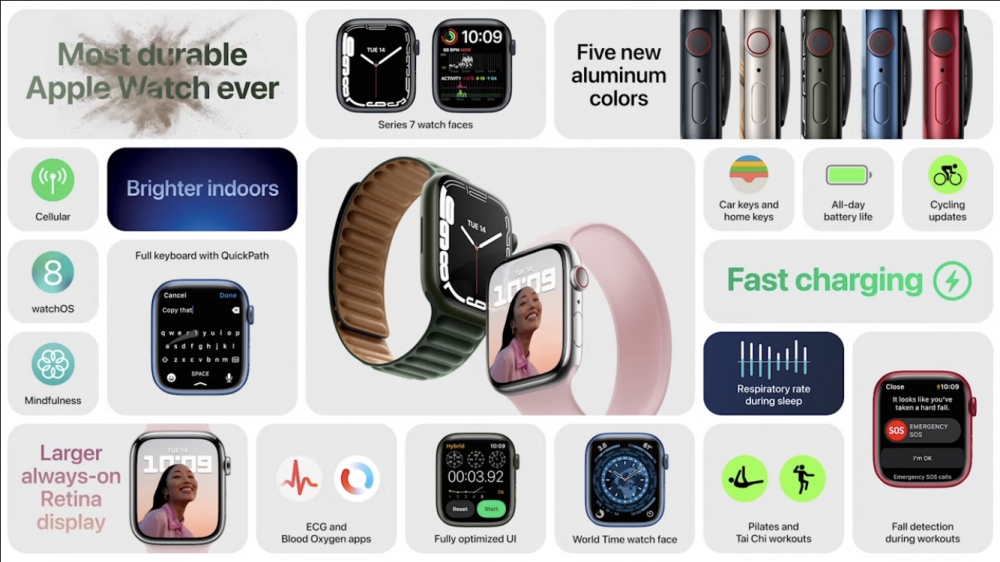 Apple says buttons have also been redesigned to take advantage of the new larger display, and an all new QWERTY keyboard that lets you tap or slide from letter to letter with QuickPath has been added.

Apple says they have completely reengineered the display in order to reduce borders by 40%. The screen borders are only 1.7 mm on the series 7, this allows for nearly 20% more screen area than the series 6, and over 50% more screen area than the Series 3. Apple has also said that the always-on display is 70% brighter indoors when your wrist is down. The ‌Apple Watch Series 7‌ also has an IP6X certification, which makes it dust and water resistant, with a WR50 swim proof resistance.

Apple also says that the Series 7 can charge up to 33% faster than previous models, thanks to an updated charging architecture and the addition of a fast-charging USB-C cable. This new architecture and the USB-C cable allow the Series 7 to go from zero to 80% charge in 45 minutes, providing eight hours of sleep tracking.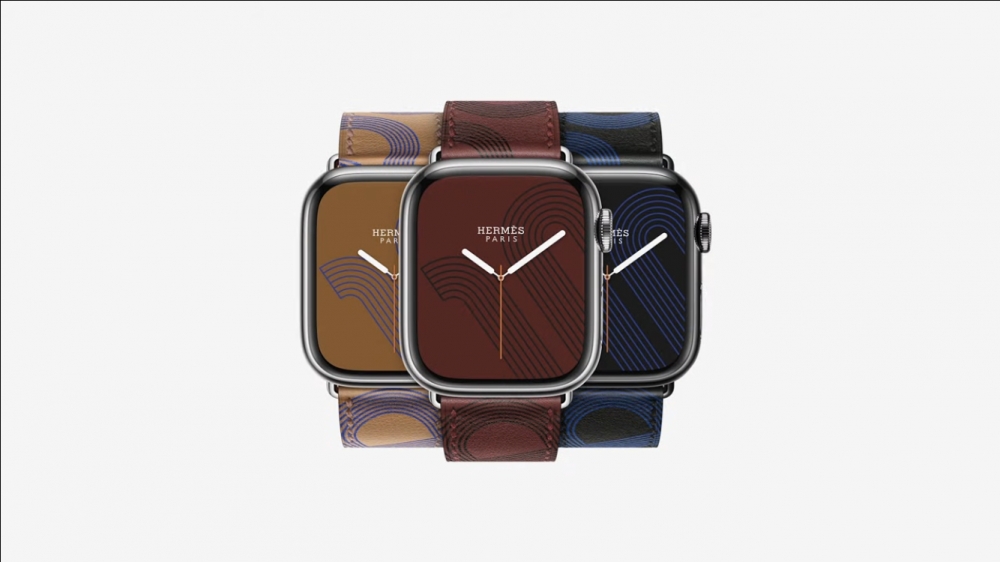 The new Apple Watch S7 will be available in five aluminum colors including midnight, starlight, green, blue, and (PRODUCT)RED. Stainless steel models will be available in silver and graphite, colors. Titanium watches will also be available in multiple colors. ‌The Apple Watch Series 7‌ will also remain compatible with existing watch bands.

Finally, the Apple Watch Series 7 will start from $399 and will be available later this fall.