Guide: How to use the new Safari in iOS 15
5th September, 2021 at 6:51 am by Ben W
This story is
100%
reliable.
12 min read
Comments
The iOS 15 update redesigns the Safari browser with new tab bar design and hidden features.
There are ways to revert to the old design found in iOS 14 and older.
---
The largest change in iOS 15 is the redesigned Safari browser, which will affect how you browse the web on your iPhone. Apple has overhauled the UI and tweaked most of the app, adding new features at the same time.
This advice applies to the latest iteration of the Safari UI on iPhone only, which was last updated during the mid-beta cycle.
New Design
Apple has moved the address bar to the bottom of the display. Tapping it will open the Start page, with frequently visited sites and bookmarks. It also integrates the search results into the same page.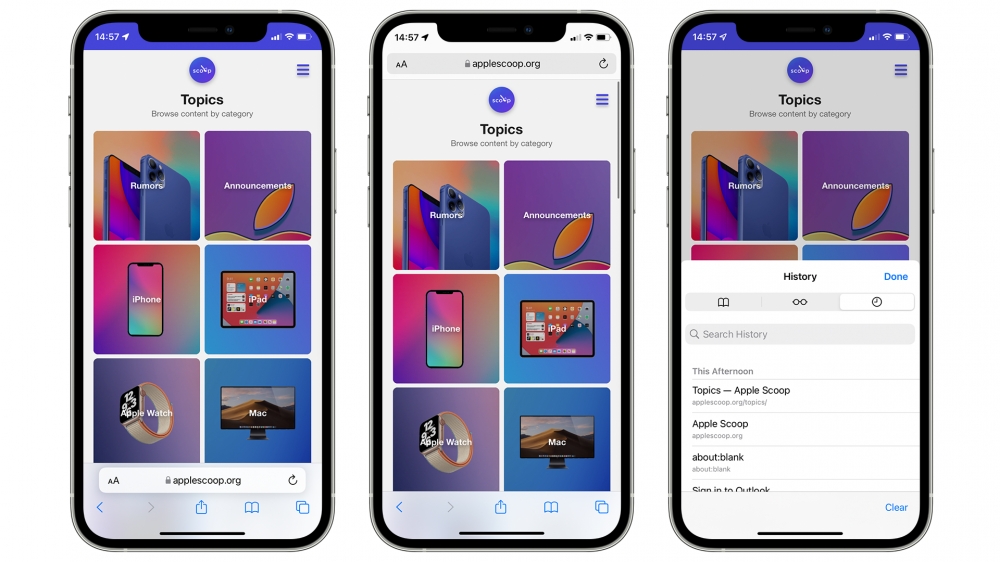 The relocated address bar is largely easier to use on larger devices, but can be moved back to the top. Apple provides the options in Settings > Safari to select the 'Tab Bar' design or 'Single Tab'. You can also tap the 'Aa' icon on the address bar and select 'Show Top Address Bar'.
Choosing the 'Single Tab' design will restore most of the functionality from the Safari UI in iOS 14. Similar to previous versions, the 'Aa' icon lets you change website settings and enable Reader View.
Pull To Refresh
To refresh a webpage in Safari in iOS 15, you can pull down from the top. This doesn't replace the reload button, and you can still refresh using the icon in the address bar.
Tab Design
With the new design enabled, you can switch between tabs by swiping left or right in the address bar area. Swiping up and holding displays the list of tabs you have open.
This screen has been redesigned to show a greater number of tabs than before in a grid view. You can quickly close a tab or force touch on one to close every other tab.
Finally, Private Mode can be invoked by tapping the 'X tabs' link at the bottom, and selecting 'Private'.
Tab Groups
iOS 15 lets you save Safari tabs in Tab Groups, for easy access later on. For example, you could save multiple tabs in a group named 'Work' to ensure you don't loose important webpages, while not having them open on your iPhone.
First, open up all the websites you want to add to a Tab Group. Tap the Tabs icon at the bottom left, then the 'X tabs' link. Select 'New Tab Group from X tabs', enter a name, then Save. You can then switch between these by tapping the group name at the bottom, selecting another group, or Start Page.
If you use Safari on multiple devices, such as an iPad, Mac, or another iPhone, Tab Groups will sync across those. You'll need to be running iOS 15, iPadOS 15 and macOS Monterey.
Redesigned Start Page
Last year, macOS Big Sur overhauled the Start Page in Safari, with customisable backgrounds and more control over what appears. iOS 15 brings the same capabilities.
On the Start Page, scroll down and tap 'Edit'. Here, you can reduce the clutter on the page by tapping the toggles next to certain items. You can hide or show Favourites, Reading List, Frequently Visited, Siri Suggestions, iCloud Tabs, Privacy Report and Shared With You.
Apple also lets you apply a preset background image or add your own. To sync the Start Page preferences between devices, tap the toggle next to 'Use Start Page on All Devices'.
iCloud Private Relay
iCloud Private Relay is built into iOS 15 and will encrypt traffic in Safari and other apps. It works by sending information to a server that will removed all personal data, like IP addresses. This data is then sent to another third-party server that will assign you a temporary IP address.
Private Relay can prevent anybody from snooping on your web activity and linking traffic to a user's identity. The feature will launch with iOS 15 as a public beta amid reports of internet connection dropouts, and will likely be turned on by default in a future software update. You can check whether iCloud Private Relay is enabled by opening Settings > Apple ID > iCloud > Private Relay (Beta).
Shared With You
This feature is system-wide in iOS 15 and works in iMessage, Safari, News, Apple Music, Podcasts, Apple TV and Photos. It works by displaying all links sent to you in iMessage in a Shared With You section on the Start Page in Safari. The feature will also support third party apps and ensures you can gather links sent by others so you don't forget to open them. Tapping the sender's name will launch iMessage where you can compose a response.
Other New Features
Voice Search: carry out a search with your voice by tapping the small microphone icon in the address bar.
Security improvements: Apple says Safari will now automatically upgrade sites to their HTTPS version if available.
Website Tinting: Safari now blends the collapsed address bar with the colors of webpages, if they support it.
Landscape UI: the UI that appears when using Safari in landscape has been redesigned to appear similar to that of Safari in iPadOS 15 and macOS Monterey, with a compact tab bar design
That's everything new in Safari in iOS 15. This guide will be updated if further improvements are made to Safari. Apple is expected to launch iOS 15, iPadOS 15 and macOS Monterey later this month.