Apple execs discuss why the Mac App Store has not been successful in internal email
28th May, 2021 at 9:55 pm by June
This story is
100%
reliable.
6 min read
Comments
Phil Schiller and Tim Cook talk about the state of the Mac App Store in newly revealed internal emails.
Gaming, productivity and developer tools are the main pain points of the Mac App Store, according to them.
This confirms that Apple executives do read emails from ordinary people.
---
In an internal email from 2015 found during the discovery process from the Epic Games lawsuit, Tim Cook, Phil Schiller, Craig Federighi, Eddy Cue and Ron Okamoto discuss why the Mac App Store has not been the revolutionary success like the iPhone/iPad/iPod touch App Store.
Phil's first point was that the Mac App Store does not have many games available, a major pain point for Mac owners who like gaming. Historically, the Mac has refused to support industry standards like Vulkan, instead opting for Apple's own Metal engine. This resulted in developers not bothering with making games for the Mac, since the player base is already low.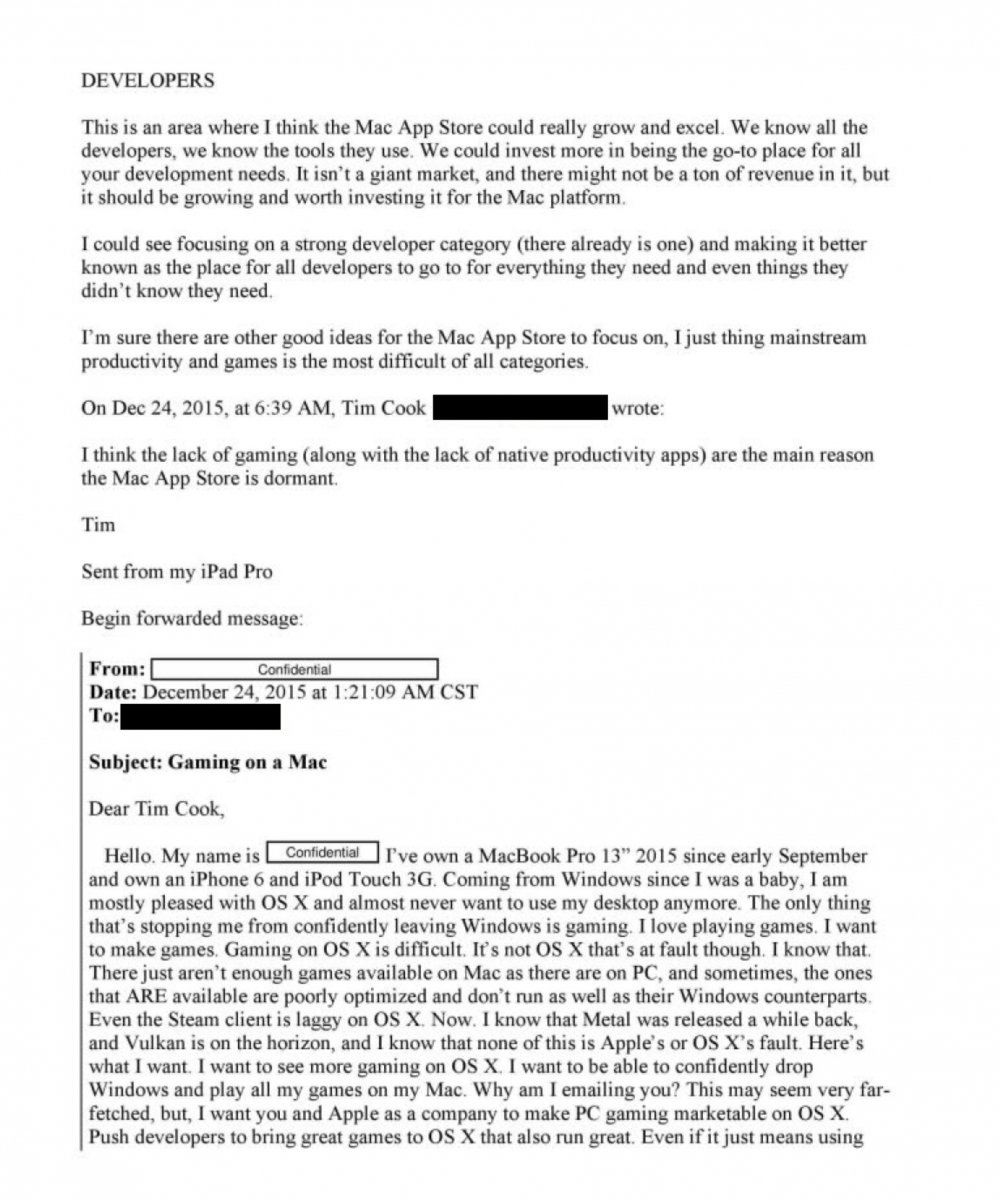 Phil points out that the last top ten PC game that had been released for the Mac App Store (keep in mind this email was back in 2015) was BioShock Infinite, selling for $29.99. He notes that it has very good reviews, but isn't even in the top 200 best paid games chart.

The Sims however, does well on the Mac, and Phil states they could make a section exclusively for The Sims and similar games into the Mac App Store.

On his next point he states that the major productivity app makers are Adobe and Microsoft who make famous products used around the world, such as the Microsoft Office suite and Premiere, Photoshop, Lightroom and others. He has written that neither company has released any of their famous programs on the Mac App Store (although that has changed recently with Microsoft releasing their Office suite on the App Store), making it not a useful destination for people who want productivity programs.
On a final note, he states that most developer tools aren't on the Mac App Store, and they could do more to make it a "go-to place" for developers, even though there might not be much of a profit for Apple.

Tim responded to Phil with:
I think the lack of gaming (along with the lack of native productivity apps) are the main reason the Mac App Store is dormant.
He also forwarded along a message from a customer being a long time Apple fan, stating that they are disappointed with the state of gaming on Macs. This pretty much reveals that Apple execs do seem to read emails from customers, and do talk about them.