AirTags and the future of Find My items tracking
10th March, 2021 at 8:23 pm by Liam
This story is
88%
reliable.
7 min read
Comments
Apple has revealed further details about the 'Items' tracking tab in the Find My app as part of the latest iOS Beta.
Leaked 'Find My Items' related code has been surfacing since iOS 13.
AirTags have been all but confirmed by Apple themselves in support videos.
---
AirTags rumors have been a staple of the Apple grapevine for about two years now. It seems like they may finally come to fruition, according to new reports and rumors. Item trackers have dramatically increased in popularity with the introduction of hit products from Tile, Chipolo and Samsung. Additionally, the advancement in technologies such as GPS, NFC (Near-Field Communication), UWB (Ultra-Wideband) and BLE (Bluetooth Low Energy) has vastly improved the performance and ease of use of item trackers.

It makes sense that Apple would want a piece of this lucrative market that is growing fast in size and value. Apple's 'Find My' system seems like the perfect platform for such an item tracker. The Find My app is already wildly popular among Apple users as it is the quickest, most optimised and accurate way to locate and retrieve Apple devices. With the introduction of Apple's rumored 'AirTags,' Find My will provide new functionalities and an entirely new experience for item tracking integration with iPhone.
What we know:
Apple has already included support for items tracking in the Find My app. In the latest iOS 14 Beta update, an 'Items' tab has been added to the bottom tab bar in the Find My app, which when tapped, displays a new UI to users, stating "Keep Track of Your Everyday Items". Apple has now released support for manufacturers to develop and ship products that can be traceable securely in the Find My app. This may appeal to developers and users alike as it will provide one place to track all their devices rather than in separate apps. This framework for items tracker is indicative of Apple's interest in pursuing the product and supports claims of Apple's upcoming AirTags. But, what do we know about the AirTags themselves?
Design:
According to Jon Prosser (reliability: 88.46), AirTags will sport a circular puck shaped design featuring a matte white casing and a brushed stainless steel plate along with a grey Apple logo in the center and the prints encircling the entire tag. The AirTags will reportedly be "a tad larger than a bottle cap". This has been corroborated by Apple patents which describe and show a similar device.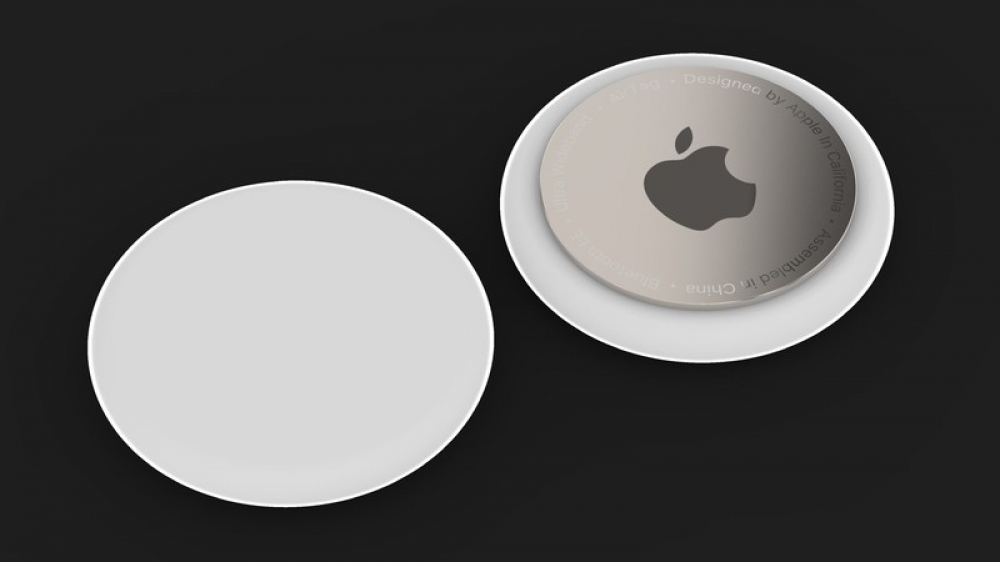 Operation and use:
AirTags will reportedly use various wireless standards to remain traceable by Apple devices at the highest possible accuracy level and range. In order to achieve range and accuracy that meets or exceeds that of the competition, Apple may utilise UWB (Ultra-Wideband) technology previously included in the iPhone 11 and 12 series. The technology was also included with the Apple Watch Series 6 and HomePod mini. UWB is a wireless standard used for precise location and data transfer similar to bluetooth. However, UWB has the ability to locate devices with much higher accuracy than bluetooth with precision up to mere centimeters.