Tim Cook: Top 25 facts about the CEO of Apple
4th March, 2023 at 10:50 pm by Flynn
Image credit: Inc. Magazine
This story is
100%
reliable.
10 min read
Comments
Meet Tim Cook, the CEO of Apple since 2011, worth $2 billion.
Cook worked for IBM and Compaq before joining Apple in 1998.
At Apple, Cook oversaw the launch of Apple TV+ and introduced several new products like the iPhone X and AirPods.
In this article, we go over the top 25 facts about Tim Cook, CEO of Apple Inc.
---
Timothy Donald Cook is a prominent American business executive who has been the CEO of Apple Inc. since 2011. Under his leadership, Apple has grown significantly and has acquired several companies, including Beats Electronics and Akonia Holographics. Cook is also known for his philanthropic work, having donated millions of dollars to charities and hospitals. In this article, we will look at the top 25 interesting facts about Tim Cook.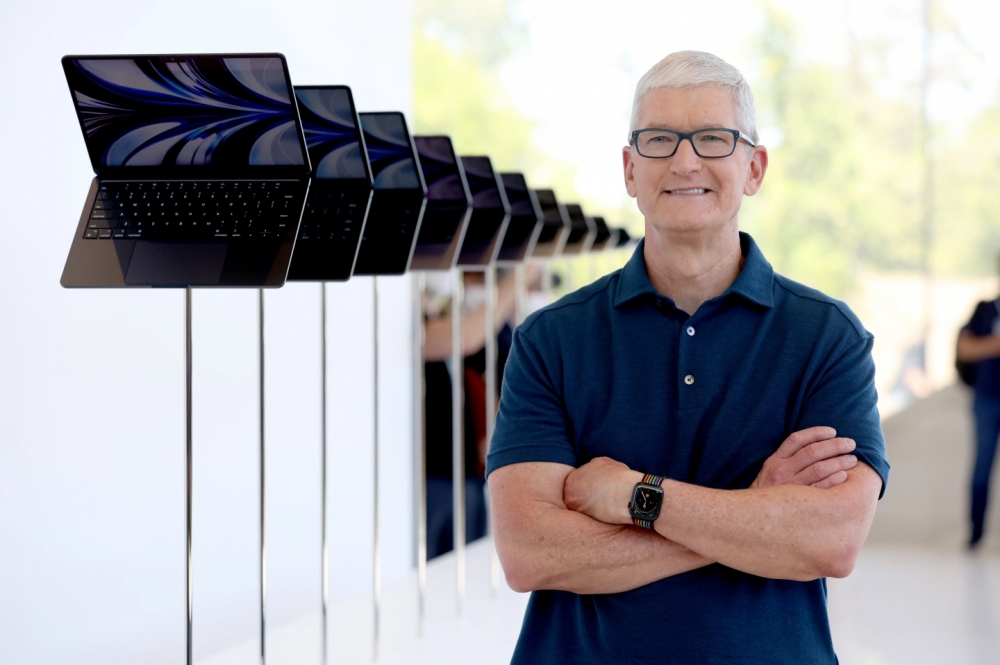 Image credit: Fortune
Tim Cook is one of the richest CEOs in the world, with a net worth of $2 billion as of March 2022.
Before joining Apple, Cook worked for IBM and Compaq.
Cook joined Apple in 1998.
Image credit: Business Insider (Steve Jobs and Tim Cook)
The biggest acquisition under Cook's leadership was the acquisition of Beats Electronics and Beats Music for $3 billion in May 2014.
Cook has led several other acquisitions, including Akonia Holographics and PullString.
Apple TV+ was launched under Cook's leadership, expanding the company's presence in the entertainment industry.
Cook collaborated with Intel to procure a smartphone modem for $1 billion.
The first product announced during Cook's period was the Apple Watch.
Other new products introduced under Cook include Clips, AirPods, Retina MacBook, and the iconic iPhone X.
Cook believes in the potential of the metaverse, stating that there are over 14,000 AR apps in the App Store and that Apple is investing accordingly.
Cook has been named one of the world's most powerful people in Forbes list around seven times.
Cook has donated millions of dollars to charity, including $50 million to Stanford hospitals, a $50 million donation to the charity Product Red, and his entire fortune to charity.
Cook's managerial style is that of a "multiplier," a leader who can make employees smarter, more innovative, and more competent via his leadership style.
Cook serves on the boards of directors of Nike, Inc., and is a member of the advisory board of Tsinghua University.
Cook's annual salary is $98.7 million in base salary, stock, and other compensation.
Apple's revenue under Cook was $123.9 billion, up 11 percent year-on-year in the October-December quarter of 2021.
Cook's leadership lesson is to "be focus," "be humble," "do what you do and do it well," and "be you and don't pretend to be anyone else."
Image credit: Sky News
Cook owns cryptocurrency but has stated that Apple won't be investing in it.
Cook was born on November 1, 1960.
Cook was born in Alabama, United States.
Cook's father's name was Donald Cook, a shipyard worker.
Cook's mother's name was Geraldine Cook, who worked in a pharmacy.
Cook graduated from Auburn University with a BSc in industrial engineering in 1982 and Duke University's MBA program in 1988.
Cook has received several honorary doctorates, including one from George Washington University and another from the University of Glasgow.
Cook enjoys cycling, hiking, and working out at the gym, and is a fan of Lance Armstrong, the American former professional road racing cyclist.
Image credit: TIME
Overall, Tim Cook is a prominent figure in the business world, known for his leadership style, philanthropic work, and significant contributions to Apple's growth and success.