96% of iOS users opt out of app tracking, report finds
7th May, 2021 at 11:10 pm by Liam
This story is
66%
reliable.
5 min read
Comments
A new report claims only four percent of iOS users have enabled app tracking when using App Tracking Transparency on iOS 14.5.
These initial results are surprising, and significantly higher than projected in various earlier reports.
---
Apple has finally released the long-awaited iOS 14.5 update, bringing many highly anticipated features to the masses. One of these expected features was App Tracking Transparency, one of Apple's biggest steps to combat sweeping data collection by mobile apps. While the rollout of this feature wasn't perfectly smooth over multiple regions and numerous devices, early reports show that the feature is highly effective at causing users to reject app tracking, much to the dismay of Facebook.
According to U.S. based analytics and advertising firm Flurry, 96% of users within the U.S. have asked apps using Flurry analytics not to track their activity. This accounts for millions of devices in the U.S. alone. Though the ratio of daily opted-in to opted-out users has slightly increased since the release of iOS 14.5, the percentage is surprisingly stable, and unpredictably low.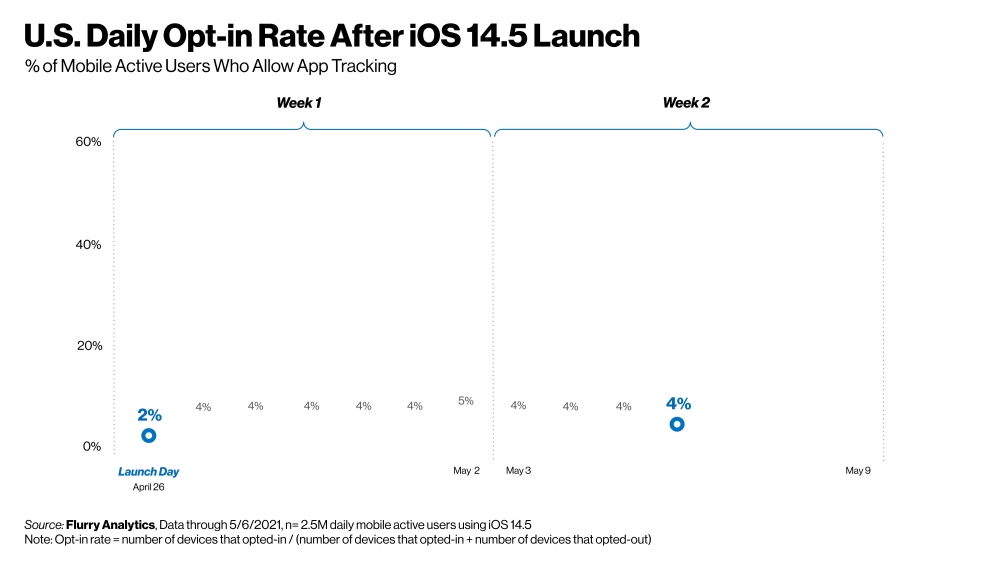 The daily percentage of opted-in consumers is three times higher than that of the U.S. ratio. Therefore, overall results are much closer to projections, although they are still dramatically lower than expected. These numbers may be more encouraging to the likes of data-hungry apps, proving that a noticeable chunk of users are still fine with being tracked. It interests me, personally, that opt-out rates in the U.S. are much higher than the rest of the world, hinting at differing expectations of privacy and preparedness to let go of personal information.
While this preliminary report doesn't represent the entirety of iOS users, it is somewhat unlikely that Apple itself releases user opt-out data. In that case, we must continue to await more thorough, long term reports from third party firms.